Good job, America! For the past 8 years, the average credit score for Americans has improved. It's a great indicator of a good economy.
Even for borrowers with less than great credit, it's a good time to improve that score by opening new loans and making timely payments.
As a lender, you may want to suggest to borrowers to set up recurring payment information as part of the loan application. That way, payments are never late, and the credit score for the borrower will likely improve due to on-time payments.
We can add the Recurring Payment screen to any loan application in GOLDTrak PC, as shown below: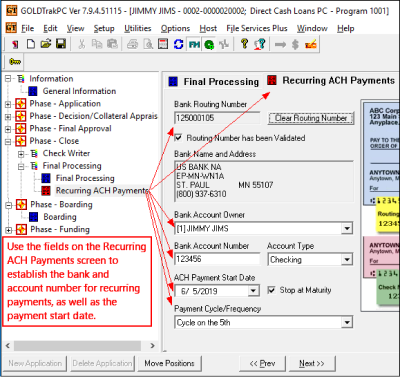 Recurring ACH Payments Screen in GOLDTrak PC
When information is entered on that screen in GTPC for the borrower, the information is transferred into EZPay to use for recurring payments once the loan is opened and boarded into the CIM GOLD loan servicing system (see example below).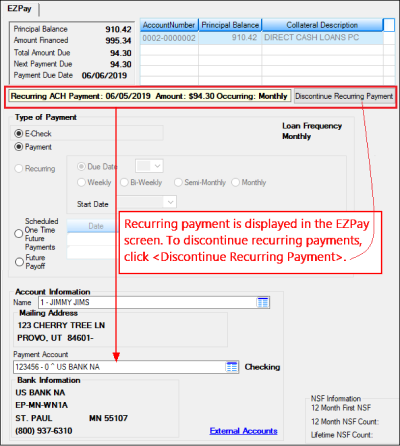 Loans > Transactions > EZPay Screen in CIM GOLD
Borrowers can designate when they want the recurring payment to happen each month, such as two days before the Due Date, on the same day as their payday, or another convenient time for them.
Then month after month, the payment is processed using the banking routing number and account number provided by the customer when the loan was opened.
Remember to always check the Exception Report to view any payments that were rejected in the afterhours due to activity on the account (see Best Practice: Examine the Exception Report Everyday).
For more information on how to set up recurring ACH payments, see the following topics in the EZPay User's Guide on DocsOnWeb:
Submitting Payments:
Further study:
Understanding EZPay Options: Recurring Payment Use Days Before
Differing Automatic Recurring Payments
The Over/Under on New FPRA Calculations