Tracking Collection Efforts
Nudging borrowers to make payments is a necessary part of the lending process. Sometimes a soft reminder works best. Other times may require a bit more cajoling. And each customer may be different. Some may prefer a phone call while others prefer texts or emails.
Did you know we have implemented a way for you to track which method works the best (aside from Cousin Vinny and a Louisville Slugger)?
In CIM GOLD version 7.9.4 (to be released soon), you can now set up specific Collection Comment Codes that will help you track what types of Comment Codes have the best success.
This new feature requires training your employees on which Comment Codes to use, as well as some setup on the system.
Comment Code Setup
First, you'll want to set up the special comment codes using the Loans > System Setup Screens > Collection Comment Codes screen in CIM GOLD. You must start each Comment Code with "PP," such as "PPTEXT," "PPPHONE," "PPEMAIL," and "PPMAIL," as shown below. You can use any naming convention you want; just make sure it starts with "PP."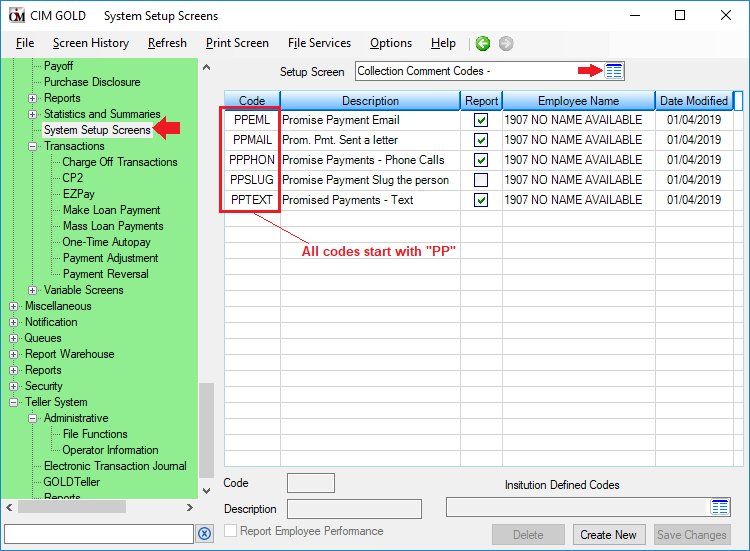 Loans > System Setup Screens > Collection Comment Codes Screen
Next, you need to use another setup screen to add those new comment codes to the Comment Code list box. This is done through the Loans > System Setup Screens > Client Code Setup > Collection Comments Codes screen, as shown below. The user-defined codes come after the system-defined codes, so scroll to the bottom and check the Add box next to the new comment codes you created. Don't forget to click <Save>.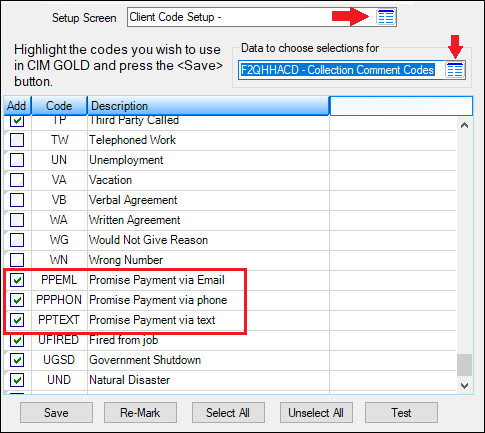 Loans > System Setup Screens > Client Code Setup Screen > Collection Comment Codes
Train Employees and Collectors
Then you need to instruct your employees and collectors that if they call, text, send an email, or send a letter to the customer who is late making their payment, they need to record it accordingly using one of the new PP Comment Codes on the Contact tab of the Marketing and Collections screen. They must also enter a follow-up date/time in the future.
In the example below, this employee sent a text to the customer reminding them that their payment is due. Therefore, she recorded it on the Contact tab as follows:

Loans > Marketing and Collections Screen > Contact Tab
Promise Tracking
The last step is for you, as the manager, to start tracking those collection efforts on the Promise Tracking screen (under Loans > Statistics and Summaries). On the far right of the screen is the Comment Code column. This column tracks all "PP" Comment Codes. In the example below, we can see that for this account, the most used method for soliciting payments is "PPTEXT."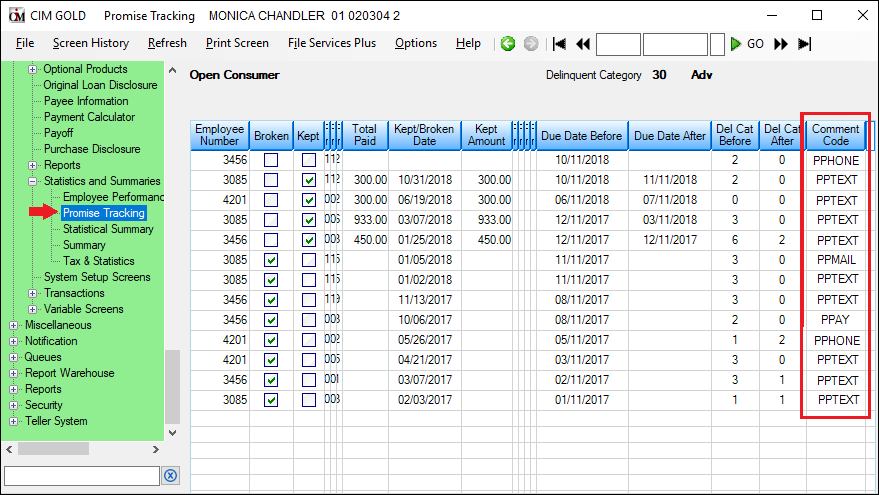 Loans > Statistics and Summaries > Promise Tracking Screen
Reports
You can also run a GOLDMiner or GOLDWriter report to view which soliciting method is used the most, and which ones have the most success across your institution (not just by account). Use FPQP record (Promise Tracking) to build your report, and make sure the Comment Code field (mnemonic: QPHACD) is included.
See the following example of a report in a spreadsheet generated from GOLDMiner showing this information. (Note: With SQL-generated reports like those run from GOLDMiner, the system may display numbers to indicate "yes" answers, such as in the example below. "Yes" equals "64" or "128," depending on the field.)
Promise Tracking Report Generated from GOLDMiner
For more tips about using the Collection system to its full potential, see the Collection Comment Code help in DocsOnWeb. We have GOLDPoint Systems account managers ready to assist you today in helping you set up your Collection system to its full potential.