Most people wouldn't dream of owning a home without insurance, or even their car, because insurance provides protection against loss. And financial institutions are no different. Most financial institutions require collateral on a loan until the loan is paid off to protect themselves if the customer defaults on the loan. But what happens if that collateral is damaged or lost or stolen? Or what if the customer doesn't have any collateral? That's where insurance comes in.
Credit insurance helps consumers maintain their credit score and enables them to keep up-to-date with their loan payments in the event of a crisis. And it helps financial institutions maintain cash flow. It's a win-win.
As a lender, you need to be able to keep track of the insurance on all your consumer loans. You need to know when a new insurance policy is opened and when policies are canceled. If a policy is canceled, you may need to follow up with the borrower to ensure that a new policy is put in place or you may have to get force-place insurance on the policy. But you won't be able to do any of that unless you know which policies have been canceled, which is where the Insurance Activity Report comes into play.
Insurance Activity Report
The Insurance Activity Report (FPSRP149) is used for tracking new and cancelled credit insurance on consumer loans and it is an extremely versatile report. The report can be sorted by either insurance type or office and the totals can be displayed by office, insurance state code and insurance type, or by insurance type.
You might choose to sort the report by insurance type so that you can quickly see which insurance type is being opened or cancelled the most. Or you might want to sort by office so that you can see which offices are opening or cancelling the most insurance policies. And it's a great tool for monitoring insurance premiums.
The Insurance Activity Report also shows the number of refunds, policies, coverage amounts, and more.

Example of Insurance Activity Report (FPSRP149)
The last page of the report shows a grand total of the entire report. You can quickly see the totals for all the new premiums and the amount of refunds in addition to the amount due to the insurance company.

Example of Totals by Insurance Type Section of Insurance Activity Report (FPSRP149)
Finding the Report
Once the Insurance Activity Report has been set up for your institution, finding the report is easy. Simply open up CIM GOLD and navigate to GOLDView Plus within the Report Warehouse.

There are several ways to run a query for a report but the easiest way to run a query for the Insurance Activity Report is to type "FPSRP149" into the Report Program field, select a starting and ending date, and click <Search…>. A list of reports shows up in the Reports list view that you can double-click on to view or right-click on to download. And that's it, easy peasy.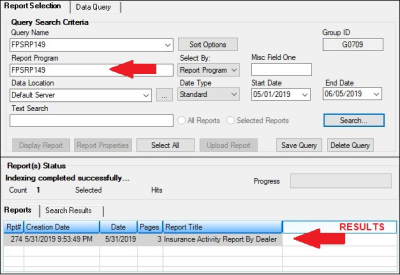 Example of an Insurance Activity Report Query
For more information on this report, see the Insurance Activity Report (FPSRP149) topic in DocsOnWeb.