Collateral on a loan is a lender's asset until the loan is paid off. Therefore, if borrowers are unable or unwilling to obtain adequate insurance on collateral, lenders can obtain coverage on behalf of the borrower and require the borrower to pay for it.
This type of insurance is known in the industry as force-placed insurance, lender-placed insurance, or collateral-protection insurance. This type of insurance can be much costlier than borrowers securing insurance on their own. Some estimates show force-placed insurance can be anywhere from four to 10 times costlier than normal insurance.
Contrary to what some consumers might think, force-placed insurance is a bit of a headache for lenders. They'd much rather borrowers find insurance on their own in the marketplace. When lenders enact force-placed insurance, it's as a last resort.
Some borrowers wrongly think that if they don't drive their car and keep it parked in a location that it no longer needs insurance. But the car is the lender's asset, and they need to protect the car against fire, theft, or acts of nature, as well. Usually the loan contract specifies the car (or collateral) must be insured at all times, and if the borrower is unable to show proof of insurance, force-placed insurance will be acquired on their behalf.
The Dodd-Frank Act passed in 2014 requires that lenders must send a notice to borrowers before force-placed insurance can be implemented. These requirements are for federally related mortgages, but many consumer lenders (auto loans, personal property, power sport vehicles) comply with these same requirements, such as:
Sending a letter by mail notifying the borrower that their insurance policy has lapsed, expired, or is inadequate for the collateral.
A clear and conspicuous statement notifying the borrower of procedures by which the borrower may demonstrate that the borrower already has insurance coverage. Some lenders provide a number or email address to contact a representative to update insurance records. Other lenders provide a website for borrowers to enter their new policy numbers.
A statement that the lender may obtain force-placed insurance at the borrower's expense if the borrower does not provide such demonstration of the borrower's existing coverage in a timely manner.
Adding Force-Placed Insurance
Before you can add a force-placed insurance policy to an account, your institution must establish insurance companies to work with. One reason force-placed insurance policies are so expensive is because lending institutions don't have the time or inclination to shop around for the best price. They establish connections with insurance companies who are easy to work with.
In exchange, many of these force-placed insurance providers will track insurance policies for institutions and notify them when insurance policies lapse.
Tip: Read last week's blog post about tracking insurance policies if your institution would rather track insurance yourselves or add another layer of tracking.
Once those connections are established, a supervisor at your institution needs to log onto CIM GOLD and access the Loans > System Setup Screens > Force Place Transaction Info screen. Use that screen to enter specific information concerning the insurance type and company with which you do business for force-placed insurance.
You can set up specifications for more than one insurance company using this screen. Additionally, you will need to establish the amortizations of insurance policies, as well as refund rules in the event the policy is canceled early.
State and local regulations may determine refund rules and amortizations. Your institution will be required to understand and know the laws governing collateral-protection insurance.
See the Force Place Transaction Information topic in DocsOnWeb for more information.
Once that screen is set up, managers can add force placed insurance policies using the Loans > Insurance > Force Place screen for each account. See these topics in DocsOnWeb for more information concerning how to add force-placed insurance policies and the effect it has on loans:
Canceling Force-Placed Insurance
When lenders finally enact force-placed insurance as a last resort, it is not uncommon for borrowers to be motivated to acquire their own insurance. They may send in proof of insurance a month or two after force-placed insurance has already been secured. Therefore, the force-placed insurance policy should be canceled.
Canceling force-placed insurance is a relatively easy process using CIM GOLD.
Access the Loans > Insurance > Adjustments screen for the specific account you want.
Select the policy you want to cancel in the top list-view table.
Select the Cancel radio button.
Select the Balance radio button. This will remove the amount of the force-placed insurance policy (or a portion of it, depending on how long the policy has been opened) from the Principal Balance on the loan.
Select the Cancel Code.
Click <OK>. CIM GOLDTeller will then launch with the applicable Cancel Insurance transaction, where you can finish canceling the force-placed insurance policy.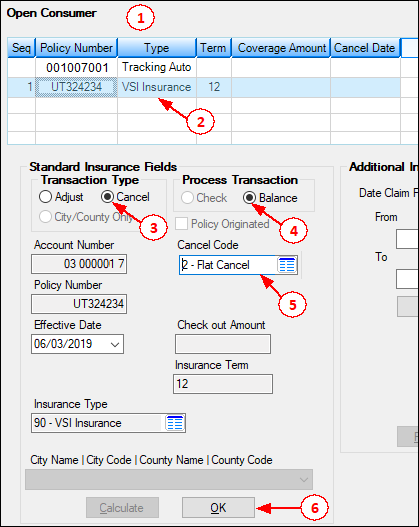 Loans > Insurance > Adjustments Screen in CIM GOLD
The force-placed insurance policy is now removed from the account, and the account balances will be adjusted accordingly automatically. See these topics in DocsOnWeb for more information about canceling force-placed insurance policies:
Note: You can also review the Insurance Activity Report (FPSRP149) in GOLDView Plus to view a list of insurance policies that have been added or canceled each month.