We have an easy-to-use product we've implemented into our deposit and loan servicing product, CIM GOLD®. This new product is called GOLD ExceptionManager®. Previously, it was a stand-alone product, but now we include it directly within CIM GOLD for better ease of use.
It no longer requires you logging in to two products and updating information. All information is contained within CIM GOLD.
GEM, short for GOLD ExceptionManager, can handle both deposit and loan transaction returns from the Federal Reserve Bank or ACH network. Transactions can be rejected due to insufficient funds, missing account numbers, holds on the account, wrong dates, or many other reasons.
GOLD ExceptionManager can process exception items failing to post to deposit and loan accounts through inclearing checks, ACH, POD, lockbox, and automated loan payments.
Some of our institutions don't deal directly with the FRB, but route all payments and checks through a bank, which then routes it on to the FRB. In those situations, we must ensure that transmissions are sent and received properly from the bank with whom you do business, so GEM can properly receive and display exception items.
For example, if a check is returned due to insufficient funds, you can use the Process Exception Items screen to examine why the check was returned. Perhaps the check was made when the account didn't have enough funds, but now the account does have enough funds. Or perhaps the account is negligent funds and must be returned to the originating institution and account.
Directly from the Process Exception Items screen, a user can post the check and include a non-sufficient funds fee. Or perhaps you have a policy that allows one returned check before charging a fee, and so you can post it to the account without a fee the first time. GEM allows you to make the decisions as needed.
If you are the decision-maker in your institution, you can go through the list of returned items in "decision mode." Then another user can see what decisions were made, and then do the actual posting with or without fees; disregard certain items; or reverse certain items (with or without fees).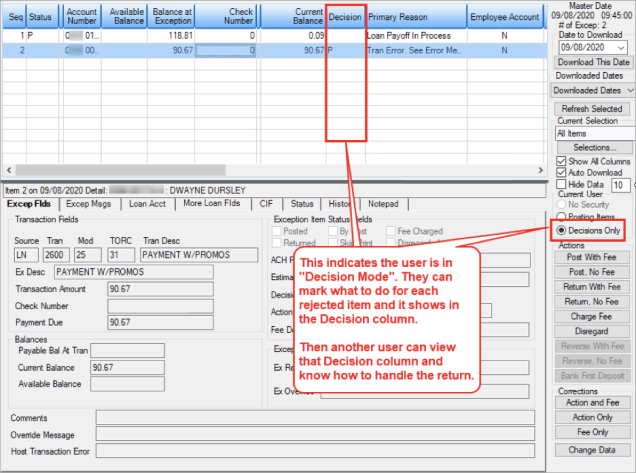 GEM also allows for creating ACH, check, and loan payment returns; notifications of change; printing notices to customers; and printing reports of exception items and how they were handled.
Some simple, easy setup is involved, so your employees can use this new product.
It is now available starting in CIM GOLD version 7.20.8 and above. Contact your GOLDPoint Systems account manager to learn more.
We will be implementing help and quick tutorials, so your employees can learn and love this new product.