Empowering Lending Solutions.
An origination, servicing, collection, reporting, and accounting suite to profitably build your business.
All Your Data. One Secure Location.
Get the real-time information you need, with the security and safety you depend on in one integrated system.
Building the Future.
With software that stays ahead of the curve.
"It helps us save money, which is going to help us generate new customers, so it's going to make us more profitable."
- Chris Mitchell, President & CEO, Acceptance Loan Company
Loan Management
Our origination, servicing and collections software make it easy for you to provide the loans you want with the capabilities you require.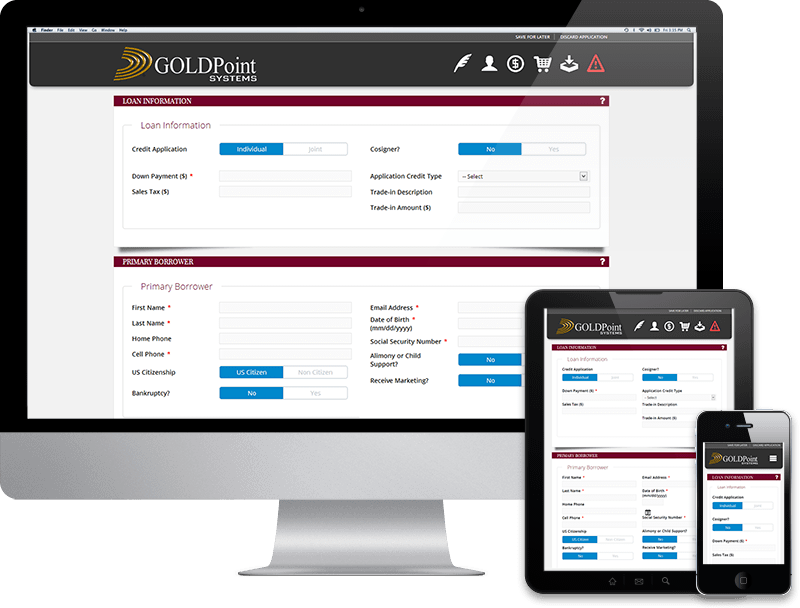 "I like that I don't have to [connect to] a particular branch now. Wherever I am and I have Internet access, I can go to work." - Matt Dial, COO, Acceptance Loan Company
Loan Origination
From your branch to the beach.
Your customers are everywhere. You can be, too.
These days, we know you need to be available to your potential customers even if they never set foot in one of your branches.
That's why we've designed our loan origination software from the ground up to be accessible and easy to use, whether on yesterday's office computers, or tomorrow's mobile devices.
When your customers need loans, we give you the means to provide them, from your branch to the beach.
Servicing & Collections
Communication and Trust.
Connect with customers and grow your business.
We understand that a business is only as strong as the relationships it has been built on.
With the powerful servicing and collections systems we've assembled, you can be confident you'll have the tools you need to keep those relationships strong and to keep your business profitable.
Our application suite uses the best of Internet, mobile, and desktop technologies, enabling you to lead the next generation of lending services.
"The system itself and what it has available to us makes it far more efficient for us to collect."

Al Stokes, Former COO (Retired) Acceptance Loan Company
Financial Intelligence
Pull ahead of the competition with real-time information and automated accounting.
Reporting
Get where you want to be...
...by knowing where you are now, instantly.
You know where you want your business to be, but it can often be difficult to reach without reliable navigation.
By giving you comprehensive access to the complete knowledge of where you are now, we can help you find the path to the top.
With only a few clicks, you'll have an accurate, analyzed snapshot of your data every second so you can spend less time reading the map, and more time building your business.
Accounting
On Schedule. On Time.
Smart solutions for smart people.
Our fully integrated Accounting System is the easiest way to manage your business.
We allow you to know your numbers by tracking your data in real time to help you make more informed business decisions.
And we'll keep your human resource needs on track with our Payroll System, letting you stay focused on the finish line.
"We rely heavily on GOLDPoint to provide the backbone to our whole HR system. We have confidence that GOLDPoint's going to provide us the support that we need when we need it."
Mike Haynie, Executive VP 1st Franklin Financial
Data Security
From reporting to accounting, gain access to accurate and real-time views of your complete financial picture.
Soc 1 Compliance
Your security is our priority.
You need your data, but you need it secure.
At GOLDPoint, your security is our priority and we take advantage of the best tools available to keep your data safe and secured.
Ernst & Young, our third party auditing firm, verifies our security with an annual audit and a Soc 1 (formerly SAS70) compliance report. With our commitment to data security, we guarantee your data's safety.
Your Data. Our Protection.
A match made in the cloud.
A fail-safe system for all your data.
You have the ability to back up on-site and off-site, and we'll store and back up all your data in our high-security facility.
And if the unforeseen occurs, we have you covered with our fail-safe disaster recovery plan. Once a year, you can participate in the annual test of our system to ensure you're ready for anything.
"It can monitor every check that's written, you can see the loan portfolio, and it has given us a piece of mind where we can sleep at night, making sure our data is protected."

Chris Mitchell, President & CEO Acceptance Loan Company
Customer Stories
Meet industry leaders, hear their stories, and imagine what we can do for you.
"A Dream Come True"
A single system to include real-time production, streamlined efficiency, fast approvals, and more profitability, while requiring less time and work.
Loan Origination
Eliminate errors with instant dealer connections, complete customer information, and seamless credit bureau integration.
Collections
It's far more efficient to collect with daily automated queues, instant delinquency reports, and immediate account and marketing information.
Support & Customer Service
GOLDPoint Systems provides peace of mind you'll have the support you need when you need it, with great service and prompt answers.
User Friendly & Efficient
With its logical flow and intuitive procedures, our system simplifies the loan application process, enabling you to keep up with demands.
An Auditor's Dream
With automatic regulation changes and branch audits from one location, the GOLDPoint system eliminates guesswork and human errors.
Partners and Friends
Friendly, reliable, and willing to help, our people complete the package by understanding your needs and reaching your goals.
Immediate Reporting
Timely information is priceless! We provide daily analysis and up-to-date views of your business status, so you can focus on production.
Marketing at Your Fingertips
Identifying and implement productive marketing strategies is easy with our soliciation queues and instant access to marketing demographics.
Management from Everywhere
Managers have instant access to comprehensive information and reports for branch data, comparisons, supervision, tracking, and growth.
Conversions
Smooth. Awesome. Fun. That's what clients are saying about the excellent training and answers provided by GOLDPoint Systems.
Complete & Reliable Accounting
Our accounting system provides seamless consolidation of critical information for daily accounting and month-end processing.
Integrated Solutions
We are proud to partner with and offer the following solutions.
Contact
Our talented representatives would love to hear from you!
GOLDPoint Systems
(888) 477-0099
(801) 429-2172