It seems the only two cheery subjects anyone wants to talk about these days are the U.S. presidential election and Covid-19. Dare this blog post conjecture about American politics and which candidate would have benefitted the state of financial lending the most? Nah. Let's go the safer route: Covid-19. 😊
We are now eight months into this pandemic, and it might be a good time to review the effect of deferments on credit reporting. Before we begin, the U.S. Bureau of Labor Statistics job report released on November 6 revealed some very good news. Total nonfarm payroll employment rose by 638,000 in October, and the unemployment rate declined to 6.9 percent. That's a rate decrease of 1.0 percentage point, capping 6 consecutive months of steady unemployment declines. (See Employment Situation Summary on the U.S. Bureau of Labor Statistics website.)
Even better news is that the economic outlook for the upcoming Christmas season is predicted to be better than 2019, before this pandemic even began. And perhaps the best news of all: trials of the latest Coronavirus vaccine are testing to be 90 percent effective.
Perhaps as a lending institution you could also implement some "sunny skies" ahead policies in helping borrowers who are still struggling due to this pandemic.
Deferments are a great way to allow borrowers to forego a payment due to natural disasters or hardships without it affecting their credit. Our system allows an easy way to both run a deferment on a loan while flagging the loan with the proper Special Comment Code for monthend credit reporting purposes.
Special Comment Codes can be included with credit reporting transmissions to further designate accounts that might be experiencing special circumstances. The CDIA has defined 30+ Special Comment Codes that can be used in credit reporting.
Special Comment Code "AW" was created to flag accounts that missed a payment due to a natural or declared disaster.
Special Comment Code "CP" flags the account as being in forebearance.
The good news about these Special Comment Codes is that the leading score developers (VantageScore and FICO) note that forebearance and deferred payment scenarios have a neutral impact on a consumer's credit score, so borrowers in one of these deferment periods should have no negative impact as a result of Coronavirus.
Hardship Deferments
When a borrower loses their job (from a downturn in the economy or some other reason), your institution may allow what are known as hardship deferments. Your institution can determine which borrowers are allowed deferments based on your institution's policies, as well as local, state, or federal regulations.
Hardship deferments allow payments for one month to be deferred. Some institutions may allow more than one month of deferred payments.
In our system, users can run deferments from CIM GOLDTeller using tran code 2600-20 (Hardship Deferment). Or they can run the Hardship Deferment directly from the EZPay screen in CIM GOLD, if access has been given for functionality on that screen. The following examples show a window into how deferments are run in our system: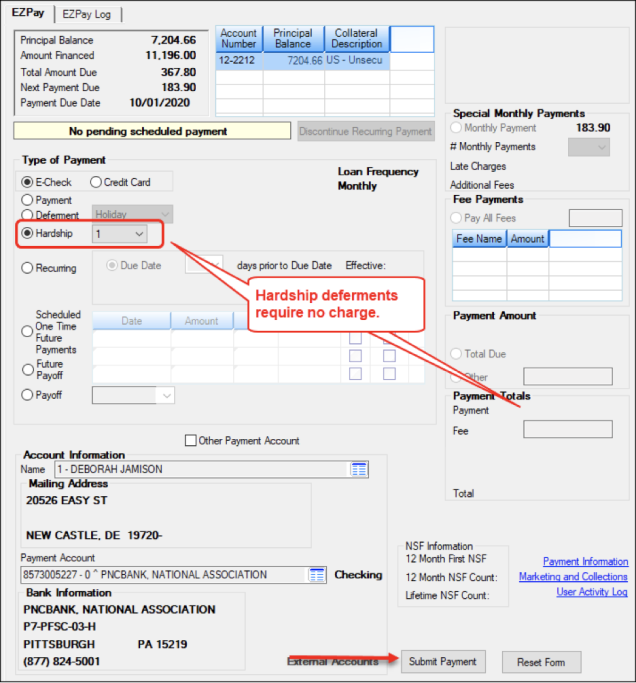 Once an employee with security access runs a Hardship Deferment, the account is flagged with Special Comment Code "CP" during monthend credit reporting. See this topic in DocsOnWeb for more information:
Deferments Due To Natural Disaster
Our system has close to a dozen ways to run a deferment transaction. The reason for so many different deferment transactions is because some institutions have different requirements for deferments. However, whichever deferment transaction an institution uses, if they will include Deferment Reason Code 6, the account will be flagged with Special Comment Code "AW" (natural/declared disaster) during monthend credit reporting. See the following example of a deferment transaction showing the Deferment Reason Code field: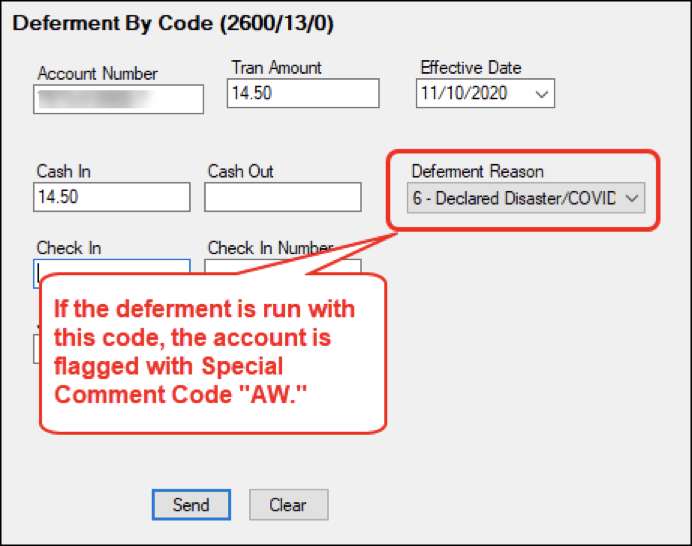 Review your institution's policies
It may be a good time to train all your employees on how to properly run deferment transactions on accounts. We've designed our system to fit your needs. Please reach out to one of our helpful account managers if you need any help ensuring your deferment transactions are set up correctly.