Whether your institution sends bulk mailings, or you contract it out with a third party, including the four-digit extended Zip code for addresses could save you money.
The U.S. Postal Service gives a discount on bulk mailings if you do things the USPS would normally do, such as sorting the mail into bundles, adding barcodes, and including the four-digit Zip code extension. Many third-party companies specialize in bulk mailings.
Zip codes can be 5 to 9 digits long. Most people know the first five digits, but almost nobody knows the next four digits.
What is the four-digit extension? It represents a specific delivery route within that overall delivery area. For PO boxes, the four-digit extension usually includes the PO box number.
Including the last four digits means mailings will arrive to their intended destination faster, as well as discounts on bulk mailings.
The following steps explain how your institution can implement an easy step when originating loans that will both verify the address is known in the USPS database, as well as add the four-digit Zip code extension.
Using our loan origination tool, GOLDTrak, we can add a USPS button to the Consumer Application screen. When users click this button after entering the customer's address information, the USPS Address Verification screen is displayed that shows the differences between the entered address and the address known with the U.S. Postal Services, as shown below: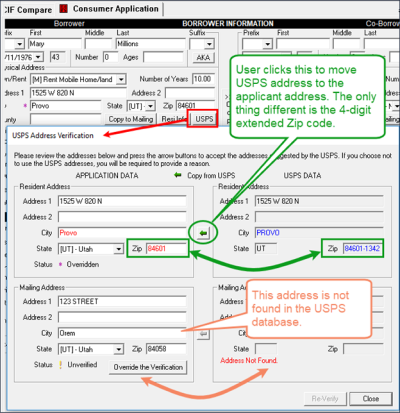 As you can see from the Resident Address on the left in the screen example above, the address verification has a red asterisk (*). This indicates that the address is slightly different from the USPS-known address on the right. You'll notice the only difference is the four-digit extended Zip code.
Once the user clicks the left green arrow in the middle, the system will move the USPS address over to the left side, thereby adding the four-digit Zip code extension to that address.
This is also a fraud prevention tool to quickly catch if an applicant is making up an address that doesn't exist, as shown in the Mailing Address section in the screen example above.
We can customize the USPS verification tool anyway you'd like by making it mandatory when completing an application; adding it to a special checklist screen; or implementing it any other way into your origination process.
If you train your front-end loan officers to implement this small check when loans are originated, it will save you time and money later.