We have created a new Check Printing function in the Loans system in CIM GOLD version 7.9.3. This new Check Printing feature allows institutions to print funding checks within CIM GOLD, as well as print reserve checks. As part of this new Check Printing function, we removed the old Reserves and LIP Check Printing screens. Instead, all checks can be printed from this new screen, as shown in Figure 1 below.
The ability to print funding checks requires institutions to board loans through GOLD Loan Gateway (or through an API). This screen is not used for printing funding checks from GOLDTrak PC.
The check funding records for new accounts will be displayed on the new Checks screen when users select "Funding" from the Check Type field, select "New" in the Status field, then click <Retrieve>. All checks to be printed will be listed in the list-view table. Users can select the check and format they want to use for the check, then click <Print Checks> and the check will print to your designated printer.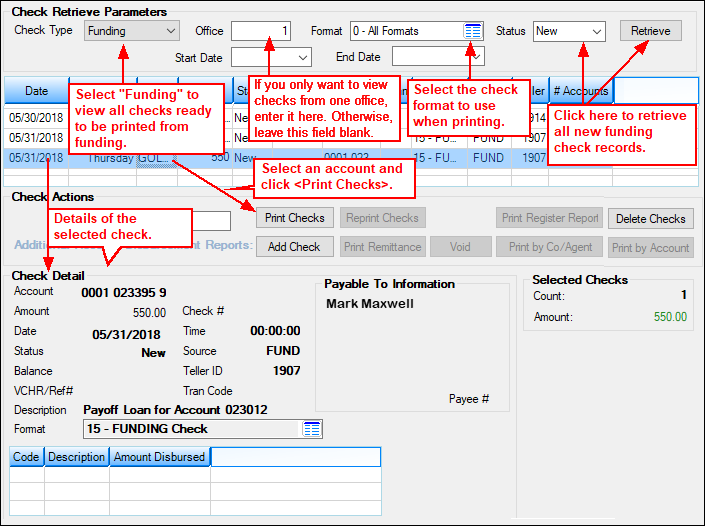 Security
If you want to use this new screen, you must first subscribe to it under Security > Subscribe to Mini-Applications. Security must also be enabled for all users or profiles who need access to this screen using the Security > Setup screen > CIM GOLD tab (under Loans > Check Printing > Checks).
Contact your GOLDPoint Systems account manager if your institution is interested in using this new screen for printing funding checks. Also, review the help for this screen in DocsOnWeb for further information.