The process of financing and servicing customers is complicated, and the software used to manage those tasks can often be complicated as well. As such, GOLDPoint Systems strives to provide multiple venues for our clients to find answers to their questions and get whatever help they need.
One such venue is F1 Help in CIM GOLD. Many GOLDPoint clients already know that if an employee has a question about a CIM field, they can click the field and press the F1 key on their keyboard to open the CIM GOLD Master Help manual. The employee can use this manual to view help documentation for the screens and fields they use when servicing customers.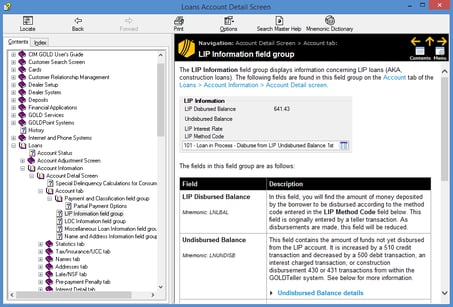 However, were you aware that this help documentation is also available online? In addition to Update notes, What's New information, and manuals for other GOLDPoint programs like GOLDTeller, GOLDAcquire Plus, and GOLDWriter, our secure site contains all the same information as the Master Help manual. Having a second venue for accessing CIM help documentation provides several benefits to your institution:
You can access help without requiring an open instance of CIM itself
You can access help anywhere there is an internet connection, at any time
On the secure site, CIM help is divided by system (Loans, Deposits, Customer Relationship Management, etc.), so each system is easy to navigate and can be searched individually
URLs are much easier to use for reference purposes when communicating with employees and GOLDPoint representatives
Help is updated on the secure site each month (F1 Help is only updated when you download a new version of CIM GOLD)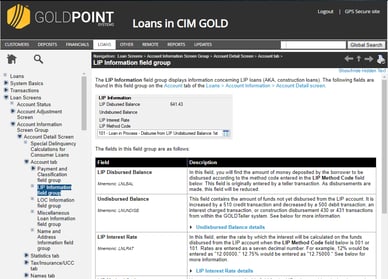 Loans in CIM GOLD on DocsOnWeb
GOLDPoint clients can access our online CIM help by logging into GOLDPoint's secure site (from goldpointsystems.com) and opening DocsOnWeb. Use the tabs at the top of the screen to locate the CIM system you're looking for. The systems of CIM are divided into DocsOnWeb tabs as explained below:
Check back next week for more information about navigating our online help database. The upcoming post will discuss printing topics, breadcrumb trails, and screen help.