It wasn't too long ago that financial institutions stored loan documents in large filing cabinets. The amount of filing cabinets likely resembled the end scene in Raiders of the Lost Ark, when an aging warehouse worker pushes the boxed Ark of the Covenant to its final resting place, forever to be forgotten amongst other similar boxes. (Is it too late to yell "spoiler alert"?)
Inside institution's cabinets were signed documents, copies of identification records, payment ledgers, statements, proofs of insurance—everything one needed for verification that the loan was opened in an actual person's name by a lender maintaining the loan.
Documents and files are still very much a part of opening a loan or deposit account, only now, all attached files are kept in an online storage system. GOLDPoint Systems' online storage system is called File Services Plus, and it's extremely easy to use.
It is accessed directly from CIM GOLD®, GOLDPoint Systems' account servicing application, or from GOLDTrak® PC, our loan origination application.
While viewing an account or application, users with security access can attach or view any type of file to the account. Those files can also be attached to a person's record. Only those with proper security will be able to view or attach files.
The following examples show how users can attach files from CIM GOLD, by either right-clicking on a screen and selecting "Attach Files" (Figure 1) or selecting "File Services Plus > Attach Files" (Figure 2).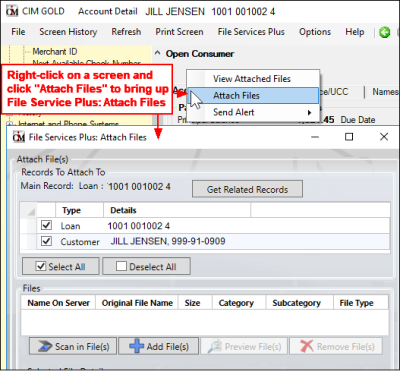 Figure 1: Right-click any screen in CIM GOLD to bring up View and Attach Files functions in Files Services Plus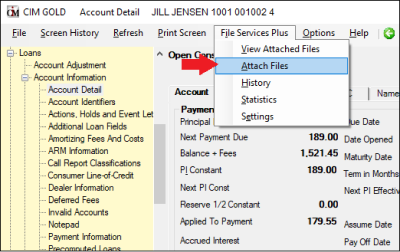 Figure 2: Select File Services Plus from the top menu bar in CIM GOLD
Users can also scan documents or images using a scanner attached to the computer (not over a network), and once the document is scanned it can be attached to the account or person. See the following example of where the scanning tool is found in File Services Plus:
Figure 3: Click "Scan in File(s)" button to connect to the scanner attached to your computer and scan in files
Security for Files Service Plus is robust. Security settings can be established for the following:
Allow users to view files in File Services Plus.
Allow users to attach files.
Allow users to delete files.
Allow users to transfer files from one person or account to another person or account at your institution.
Allow users to view statistics involving File Services Plus, such as how much disk space was used today, this week, this month, or year to date.
Allow users to export files to their computer or place on the network.
We also offer watermarking capabilities to indicate files as copies, so original documents remain secure. See New Vaulting Service for Watermarks for more information about this feature.
All files are secure and backed up by GOLDPoint Systems' IT professionals. We have implemented extreme safeguards in our system to keep information secure and safe. Physical damage to your institution or ours will not be the end of business. All data is backed up in a secure place off campus.
Types of files that can be uploaded into File Services Plus include PDFs, image files (all types—jpgs, pngs, tifs), Word documents, emf files, txt files, wmf files, spreadsheets—basically any type of file.
GOLDPoint Systems has also provided plenty of storage space, enough to easily house all files for all your accounts.
It is an extremely useful tool our customers love. If you are capable of logging onto DocsOnWeb and want to learn more, see the File Services Plus User's Guide.