Thanks to everyone for traveling to GOLDPoint Systems' annual GAIN User Conference March 13-15 in Provo, Utah. It was great meeting so many of you and hearing of your successes. It was also good to listen to some of the challenges institutions face every day, and how GOLDPoint Systems can create better tools to help you address those issues.
The focus of GAIN is to share information, improve processes, and network with each other. This year's conference was a huge success.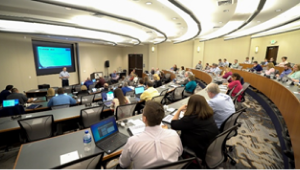 It's easy to see why attendance to our annual GAIN conference is growing year over year. It was good to mingle with long-time partners, as well as meet some new clients to our system. We showed exciting new products to be released in the upcoming year that we hope will be well received. We will keep you up-to-date when major pieces of projects are completed using our Development Roadmap, which aims to keep you informed on progress being made.
The presentation notes from all our classes are now available on our secure website for you to review. Go to the GOLDPoint University site and click the GAIN tab.
We try to make these conferences focused on your needs.We get input from all clients before the conference as to what content should be included. We also collect information after from those that attended, so that we can continually improve. This year we discussed their opinions on how they felt about the time of year, the location, the topics covered, and the group activity.
This year's activity was hatchet throwing, a unique experience that exposed some hidden talents and provided a great opportunity for everyone to get to know each other better outside of the work environment. We were pleased that everyone returned with all their fingers and toes.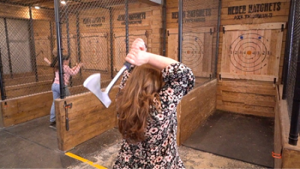 The surveys are very important so that GOLDPoint can improve future conferences and make it an event that is both educational and fun. As we plan for GAIN 2020, we have already taken steps to implement some of the suggestions from the survey. As an example, we will add a meeting on Information Technology geared specifically for IT specialists. We're planning to provide this meeting the morning before the conference begins.
Some of the quotes from the survey included:
"It was just right – I would not change anything."
"I thought this was the best year yet. Very informative on new tech while having ample time to have open communication with other customers."
"I like how you poll the clients before the GAIN meeting to find out what we want to learn about during GAIN."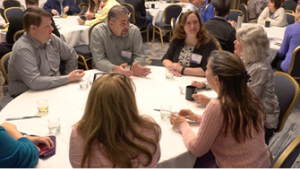 There were also lots of suggestions for improvement, and we are already integrating those into our plans for next year. Expect a survey on what classes and presentations you would like to see during GAIN 2020 that will be sent to all clients in early Summer.
GOLDPoint thanks you for your continued support and participation in the GAIN conference. We know that it is a great opportunity to meet with other clients, as well as GOLDPoint employees. It is enjoyable to work with such great people. We hope to see you at GAIN 2020 next March.