Your institution is likely fielding an increased volume of calls from borrowers out of work or with reduced paychecks asking if there is any way they can postpone a payment. Or what will happen to their credit score if they miss a full payment. Your institution has likely come up with a plan to help these borrowers through this pandemic. CNBC reported that many banks and financial institutions are allowing deferred payments for as long as 120 days, as well as waiving late charge fees and convenience fees.
Whatever your institution is doing, our software can help. One very important part of all of this is keeping good records on accounts of what has transpired.
Credit bureaus strongly recommend not suppressing or suspending reporting your entire portfolio or delinquent accounts. To make matters more complicated, the passage of the CARES Act on March 27, 2020, prohibits creditors from adding negative information to credit reports if you and the borrower work out an agreement to approve delayed payments (such as deferments).
However, if the account was delinquent before the CARES Act was passed, and the borrower continues to be delinquent on their payments, the account can continue to be reported as delinquent. This change only affects accounts that were current before the CARES Act.
In other words, creditors can't report the payment as delinquent if the borrower was previously current, and you've reached an agreement with the borrower to do any of the following:
· Defer one or more payments.
· Allow the borrower to make partial payments.
· Allow for any other assistance.
One of the most important parts of this on your end is to keep a good record of any allowances you make on accounts. If a borrower were to claim they came to an agreement with your institution that they were allowed three deferments, and it wasn't documented anywhere in the system, that would be hard to defend in court.
Here are five ways you can use our software to record account resolution details.
1. Deferments Screen
Any time a deferment is processed on an account, it is recorded on the Loans > Deferments screen in CIM GOLD, GOLDPoint Systems' loan servicing software. The Deferment record (FPD0) is also updated, so you can run reports based on the information in those fields.
Deferments allow borrowers to miss making a payment that month without it hurting their credit. Whether or not your institution allows deferments, or how many to allow, is up to each institution. Government regulations in differing states may also affect when deferments are allowed.
In the next week or so, a new field (mnemonic is D0DFRE) is being added to many deferment transactions. That field will be for front-end tellers to enter a reason for the deferment. You can add "COVID-19" as a reason, and then you will be better able to track when a deferment was run for reasons of the pandemic versus other reasons. The following is an example of the new field that will be available soon on deferment transactions, followed by an example of the Deferments screen showing the deferment reasons. We will likely write another blog post when this field is available, as well as instructions on how to set it up.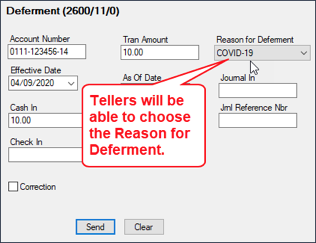 Deferments Transaction in CIM GOLDTeller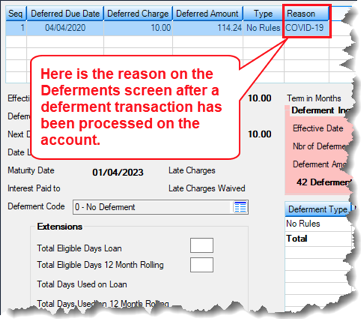 Loans > Deferments Screen
See these topics in DocsOnWeb for more information about deferments:
2. Add Comments in Marketing and Collections
The Marketing and Collections screen is the best place for tellers to record any additional comments on accounts. Comments are saved in a record that can be compiled later in a report. The record is F2QH, which you can add to any GOLDWriter or GOLDMiner report.
You may want to train your tellers to enter a comment any time they adjust an account during this time, just so you have a back-up record of what transpired on the account. We say "back-up" because the system tracks anything done on accounts anyway.
However, our system doesn't record things not done on accounts. So, if a front-end teller or loan officer decides to not allow a deferment on an account, and they have a good reason, they may want to record why they made that decision on the Contact tab of the Marketing and Collections screen. That way should the account be in dispute later, there is a record of what was decided.
Many comments are automatically entered when certain transactions take place on the account. For example, any transaction occurring on the EZPay screen will show on the Contact tab. See the following example of this screen: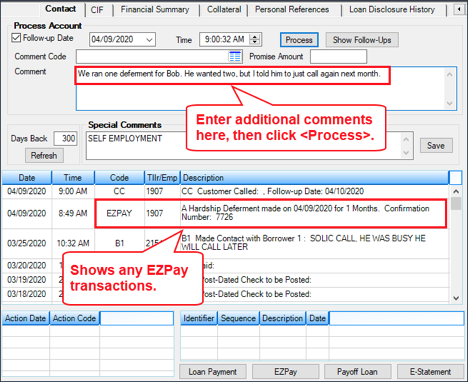 Loans > Marketing and Collections Screen > Contact Tab
3. Attach supporting documentation to File Services Plus
If a customer brings in a document showing they were laid off, perhaps a notice of employment termination, you can attach that document to the account using File Services Plus.
On any loan screen with the account selected, you can simply right-click and select "Attach Files." You can also attach the file using the File Services Plus menu at the top of CIM GOLD and select "Attach Files." Any Word, Excel, PDF, and any image file (emf, png, jpg, bmp, tiff, etc.) are acceptable.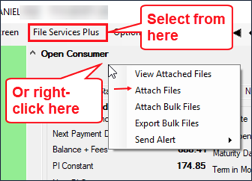 Additionally, if you and the customer come to an agreement about deferments, you can print the agreement and attach it to File Services Plus.
We can tie a Deferment Notice to run after deferment transactions are processed. Then you can easily have the customer sign that notice, then attach the notice to File Services Plus. See the Deferment Notice topic in DocsOnWeb for more information.
Contact your GOLDPoint Systems account manager if you want to make sure the Deferment Notice is tied to the deferment transaction you use. They would be happy to help you set that up if it isn't already.
4. Use an Account Identifier Code
If you simply want to flag any account that you know is in trouble due to the effects of the Coronavirus pandemic, simply assign an account identifier to that account. This is done through the Loans > Account Identifiers screen. The record for that screen is FPA3.
Before you can assign a COVID-19 identifier, you must first set up the code on the Loans > System Setup Screens > Account Identifier Codes screen. This step only needs to be done by one person for your entire institution.
Once the code has been set up there, front-end tellers and loan officers can assign accounts with that identifier, as shown below.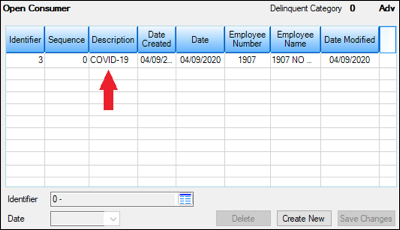 Loans > Account Information > Account Identifiers Screen
There's no doubt this virus has thrown us all for a loop. Please let us know if there is anything in our software that we can adjust or make better for you. We are here to help anyway we can.