The Telephone Consumer Protection Act was enacted in 1991 by the Federal Communications Commission. This act was passed long before cell phones had reached the saturation they are today, but further court findings have determined TCPA rules also apply to SMS texts.
This law also applies to debt collection calls if institutions use an autodialer. What qualifies as an autodialer? Any automatic telephone dialing system that can produce, store, and call telephone numbers using a random or sequential number generator.
Debt collection calls using an autodialer are only legal if the customer has given their prior written approval for your institution to call them on their cell phone. Violation of TCPA can result in very expensive fines to the tune of $500 per complaint.
So how do you ensure your institution is in compliance with TCPA? The truth is, you are likely already in compliance.
If you don't use an autodialer, you're almost home free. In October of 2013, the FCC adopted additional protections for consumers concerning unwanted autodial calls requiring that "prior express written consent" be given before autodialers could call borrowers. However, the big exception with this new regulation was that calls that are manually dialed and did not contain a pre-recorded message were exempt from TCPA regulation. If you use autodialers, keep reading for an additional option we've added below.
Text messages also fall under this same requirement. Even if your company doesn't autodial your customers, do you send out mass texts for an account or promotional features? Well, then, you might want to hone up on your TCPA regulations (as if you haven't already, shah!).
Marketing texts are regulated differently from account texts.
Marketing messages are those where you send texts informing borrowers about loan opportunities. TCPA regulations do apply to these.
Account messages are those that apply to the account, such as a payment was made, an alert for a balance getting to high or low, or a fraud alert about unusual card activity. Generally, these types of messages are exempted from being TCPA compliant.
A third type of text could be payment reminders, but those may fall under TCPA regulations in some instances. Payment reminders may qualify as "collector" status if too many payment reminder texts are sent, or texts are sent on a day your institution isn't open for business. That's more a gray area we'll get into later.
Marketing Texts and Opt-out Options
Perhaps you have marketing campaigns, where you send texts to your borrowers concerning new low-interest loans your institution is offering. Are those TCPA compliant?
Like all things, your lawyer will tell you: it depends. (That's $600/hour for that information, please.) During the loan application process, your documents and applications should notify applicants if your institution intends to send marketing texts. You should also provide a way for applicants to opt-out of those texts.
Even after the loan is opened, if the borrower calls requesting they no longer want marketing texts, there needs to be a way to designate that.
Additionally, restrictions require that texts only be sent during certain times of the day, between 8 a.m. and 9 p.m. in the time zone your recipient is in. Nobody appreciates a text from their financial company at 1 a.m.
Your company is responsible for keeping a record of communication for business made through text messaging applications.
GOLDPoint Systems Can Help
See these five easy ways GOLDPoint Systems can help you be TCPA compliant.
1. Send opt-in texts. Using our Notification system or allowing us to work with a third-party texting service, such as Solutions by Text, we can send your customers a text asking them if they would like to opt-in to further marketing or account texts. That way, you have a record of how the borrower responded. All text messaging communication is archived in our system and can be seen on the Notification > Texting History screen in CIM GOLD. (Or the Solutions by Text History screen, if you use Solutions by Text.)
2. Use email to grow your opt-in list. Texts and voice mail may be regulated by TCPA, but emails are still available without restriction. With a strategic email campaign, you can include call-to-action buttons directing customers to click "here" to opt-in to future texts regarding attractive plans. Our Notification system also sends emails to customers that can be based on established criteria.
3. Changing opt-in/out is a snap-in CIM GOLD. Once a loan has been open and boarded into CIM GOLD, customers may call requesting that no solicitation or texts be sent to them. It's easy to adjust opt-in/out settings if this occurs. Go to the Loans > Marketing and Collections screen > CIF tab. There you will find a Borrower Opt-Out table, as shown below. Check the boxes in the Opt-Out column to designate the customer no longer wants those messages. Note: These opt-in/out options must have been part of the loan origination process (added to your loan programs) to show in CIM GOLD.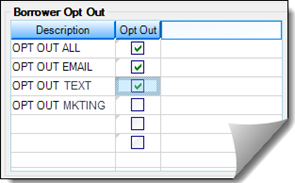 4. Add opt-in/out criteria to documents. Documents created from our loan origination software are easy to amend. If you need to include a paragraph or two letting customers know about their opt-in/out requirements, let us know. We'd be glad to include that information for you.
5. Ensure texts are sent in the designated timeframe and on designated days. When text messages are set up through our Notification system, we can designate triggers that govern when texts are sent. We can also set up specific criteria of when the cell phone connected to the account receives these texts. For example, a new loan can trigger a text, but we can designate that the text not be sent until a specific day and time. See the example below of how we can set up texts to be sent at specific times: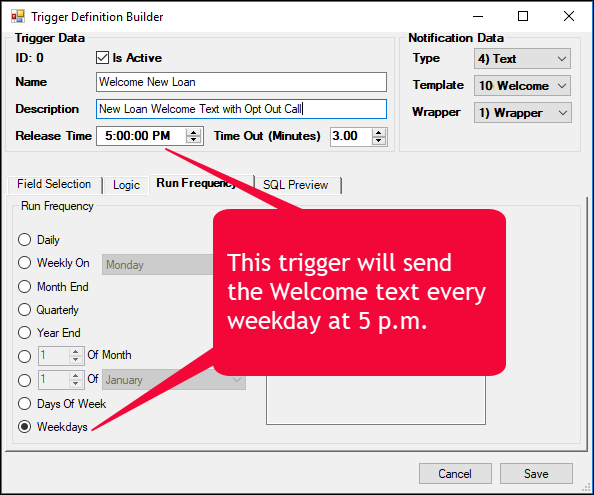 Extra Confidence for Autodialing
Financial institutions may still have a need for autodialers. Autodialers are cheap and easy to use, especially when working with collectors. GOLDPoint Systems has your back. The biggest issue in maintaining TCPA compliance is documenting "prior written consent."
Usually, "prior written consent" is obtained when the borrower included their cell phone number on the application. But what if the original number used during the application process has been reassigned to a new user? That new user didn't give your institution permission to call or text. An estimated 100,000 cell phone numbers are reassigned every day to new users.
We can work with third-party systems who track and identify mobile authentication. Early Warning is just such a system we have recently worked with to send us transmissions where cell phone numbers of customers have been reassigned.
When they send us a transmission, and there is a match for an updated number, our system records that information in new fields on the Customer Relationship Management > Households > Phones tab, as shown below.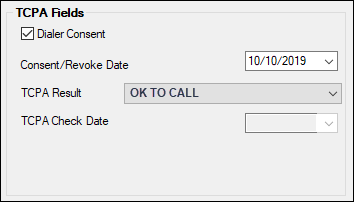 Note: These fields are pending in CIM GOLD version 7.9.9 to be released soon.
This keeps a record for your institution of when the borrower consented their phone number to be contacted, which could be ported over from loan origination. And should the number change, you could manually change those fields. Or use a fancy, schmancy transmission from a third party.
And of course, using GOLDMiner or GOLDWriter, you could run a report on all accounts that have been flagged accordingly. Those new fields are part of the FPP0 (Phone) record.