After three months trying to wrap our proverbial arms around this COVID-19 pandemic (at a safe distance, of course), most institutions understand by now the guidelines established by the Consumer Data Industry Association for reporting loans in deferment due to loss of job or health caused by the pandemic.
The CDIA encourages the use of two Special Comment Codes:
"AW" designates the loan's current status is affected by a natural or declared disaster.
"CP" designates the account is in forebearance.
The leading credit score companies, such as Vantage and FICO, consider these codes as neutral and should have no negative impact to a consumer's score, assuming the account was current on payments going into the deferment period.
GOLDPoint Systems runs the Credit Reporting process each monthend and sends that information to Credit Bureaus via a transmission. Certain activity on the account will cause the Special Comment Codes field to automatically update accordingly.
You can manually assign Special Comment Code "AW" (affected by declared or natural disaster) or "CP" (account in forebearance) to any account with a deferment on the Credit Reporting screen. Or the system can assign it automatically during monthend Credit Reporting, but only if the following qualification is met:
When running the Deferment transaction, you must include Deferment Reason Code 6 for the system to assign Special Comment Code AW at monthend Credit Reporting. Deferment Reason Code 6 will flag the account that the deferment was due to a natural or declared disaster. Only the following Deferment transactions allow Deferment Reason Codes:

Deferment Payment Transaction (tran code 2600-11)
Deferment By Code Transaction (tran code 2600-13)
No Rules Deferment (tran code 2600-17)
Deferment with Reason (tran code 2600-35)
Fee Reg Deferment (tran code 2600-50)
If you run a Hardship Deferment from either the Loans > Transactions > EZPay screen or from tran code 2600-20 in CIM GOLDTeller, the system will apply Special Comment Code "CP" to the account at monthend. If your institution currently doesn't allow the Hardship transaction in EZPay and would like to start using it, contact your GOLDPoint Systems account manager to have them set up those options for you.
Special Institution Options
If you are using Special Comment Code AW, we suggest you also have institution options K402 and K403 set, as described below:
K402: When this option is set, along with applying Special Comment Code AW, the Account Status is reported with 11 (current account). Institutions may only want this option set if they do not want the additional Credit Reporting fields changed when K403 is set (see below).
K403: Most institutions will want this option. This is similar to how the system reports loans in deferment regardless of Deferment Reason Code 6 or not (with the exception of the Special Comment Code AW assignment). When this option is set, the account is reported as follows:

Special Comment Code is "AW."
Account Status is "11"
Scheduled Month Payment is 0
Amount Past Due is 0
Payment History is set to "D" (no history this month)
Special Comment Code Prioritization
The tricky part about Special Comment Codes is that only one is allowed per account. This is usually not a problem, but it is not unusual for an account to qualify for more than one Special Comment Code. That's when the Loans > System Setup Screens > Special Comment Priorities screen comes into play. Your institution can prioritize the order of Special Comment Codes using that screen.
For example, let's say an account made a payment at the beginning of the month through wage garnishment (using the Garnishment transaction). That account would qualify for Special Comment Code "AM" (account payments assured by wage garnishment). But let's say later in the month, a Deferment transaction was made to advance the Due Date, and the deferment included Deferment Reason Code 6. The account would also qualify for Special Comment Code "AW." During monthend Credit Reporting, the system looks at the Special Comment Priorities screen, and if AW is higher in the grid than AM, the account will be reported with that instead of AM.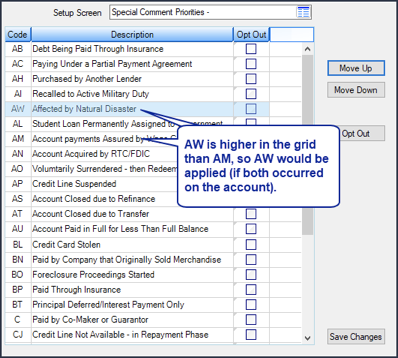 Loans > System Setup Screens > Special Comment Priorities Screen
Third-party Program for Modifications
Many institutions use a program called e-Oscar to modify or change credit information reported to Credit Bureaus once that transmission has been sent (and should you find discrepancies). According to e-Oscar's website, they are a
"web-based, Metro2 compliant, automated system that enables Data Furnishers (DFs), and Credit Reporting Agencies (CRAs) to create and respond to consumer credit history disputes. CRAs include Equifax, Experian, Innovis and TransUnion, their affiliates or Independent Credit Bureaus and Mortgage Reporting Companies. e-OSCAR also provides for DFs to send "out-of-cycle" credit history updates to CRAs."
Hope this information helps when reviewing your deferment policies.