This series explains the best practices for uploading images and documents in File Services Plus (FSP). This topic describes how to resize PDF files before uploading them to File Services Plus. See these other posts for additional help concerning other best practices:
---
PDFs, by design, are meant to be secure and uneditable. They're well-known in the loan industry as a great way to save loan applications, signed documents, and any other certifying paper work. However, they can be much larger than a Microsoft® Word® document.
What many people don't realize is that there are ways to reduce the size of a PDF. This post explains how to reduce PDFs to an even smaller size before attaching them to File Services Plus. FSP is GOLDPoint Systems' robust file saving program, where all types of files can be saved and attached to a person or account. The files can later be viewed when viewing the account in CIM GOLD®, GPS' account management application.
Probably the best thing you can do regarding documents is to not print them from Word, scan them using a scanning machine, and save them to PDFs. Instead, Word has the capability of saving documents to a PDF format directly within Word.
If you want to attach a Word file to an account or person in FSP, that's perfectly acceptable. However, if the file needs to be more secure, and you don't want people making changes to it, you should save it as a PDF before attaching it to an account in FSP. See the Save or convert to PDF topic in the Microsoft Office help to learn more about exporting Word files to PDF.
Additionally, Word has an added feature under Save As that allows you to reduce the size even more. Open the Word document you want to convert to PDF, then complete these steps:
Click File > Save As. The Save As dialog is displayed (see below).
In the Save as type field, select PDF (*.pdf).
In the Optimize for field, select Minimum size (publishing online).
Click <Save>.
Now attach that saved PDF to File Services Plus. For example, we had an original Word document that was 576.8 KB. Once we saved it as a PDF using the Minimum size option, the PDF was then 299 KB.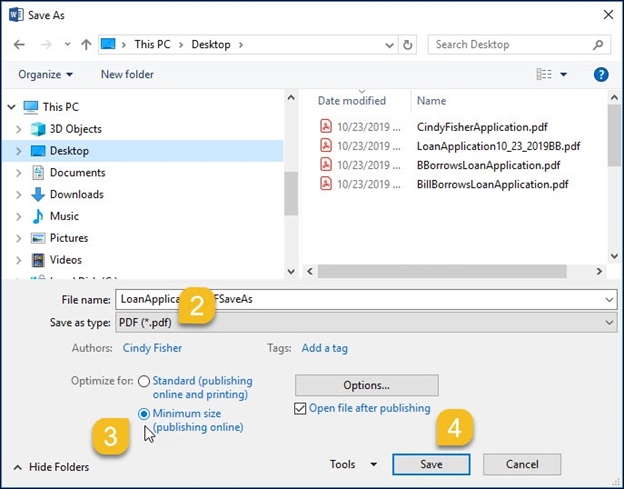 Use this handy online tool to compress PDFs.
Most of your documents will be attached directly during the loan approval and origination process. That means documents will already be in PDF format. Can those PDFs files be reduced in size?
Using a nifty little online tool offered by Adobe, yes, they can be compressed.
Go to this trusted address in Adobe's document cloud:
https://documentcloud.adobe.com/acrobat/us/en/online/compress-pdf
Click <Choose File> and find the PDF file you want to compress.
Then download that file and attach it to File Services Plus. You should probably delete the bigger-sized PDF as well.
When we tested this, we found that a 13.68 MB file compressed down to 9.13 MB, with relatively small changes to the look of the document. Test it out yourself to see what results you get.
You could also purchase an Adobe® Acrobat® Pro license, which is around $15/month per user. This professional license gives you access to more file-reducing features, such as the Reduced Size and Optimize features.
Note: When we tested reducing a PDF using additional Acrobat Pro capabilities, we found the PDF reduced an additional 20-30% from the Compress PDF online tool.
If scanning PDFs, still use compression.
In a perfect world, you would have received all your documents in digital format. But the truth is, sometimes (a lot of times) PDFs or Word documents need to be scanned into a file using a scanner. Take heart, most scanning software include methods to optimize PDF files.
First, never scan any document with dots-per-inch (dpi) settings greater than 150, and really, 96 dpi should be plenty sufficient.
Look at the additional PDF options available from this scanning software: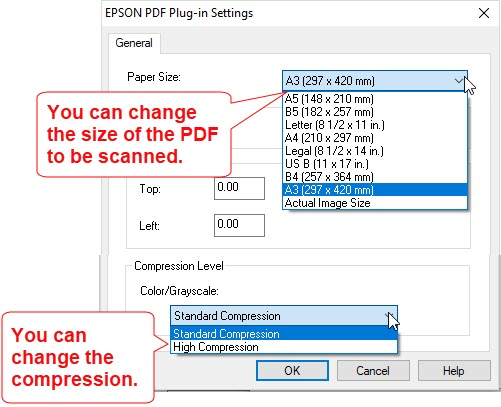 We experimented with scanning a document with different settings. Turns out if we set the paper size to Letter (8 ½ x 11 in.) and set the Color/Grayscale to "High Compression," the difference in PDF size went from 116 KB to 37 KB.
Experiment with your scanner software to see which settings will work best for your institution. Make sure you train all your employees with these best practices. Making your mountain of documents into a molehill may end up saving you money in data storage.