A tutorial on texting seems like a waste of time. We all know how to text, right? But what if you are a collector using GOLDPoint Systems software, and you want to see a record of texts sent to a borrower? Would we expect the collector to grab their smart phone and somehow tap into some app that would show the back and forth exchange of texts?
No, that would be counterproductive. The collector is already using GOLDPoint Systems software: let them view and send texts from directly inside the loan maintenance application (we call it CIM GOLD).
It's no secret that texting is the preferred method of communicating these days. According to an International Smartphone Mobility Report, 91 % of people surveyed said they prefer receiving a text message to voicemail.
But sending texts to your borrowers isn't as easy as it sounds. The FCC/TCPA require "prior written consent" from borrowers before text messages are allowed. You likely have included consent language in the loan application when the borrower opened the loan.
Our software shows whether the borrower has opted-in to receiving texts for marketing or account purposes, as shown below: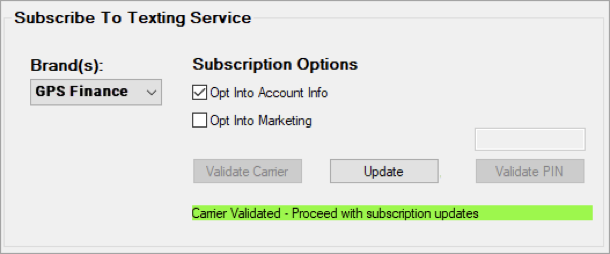 Additionally, our system can email or text new borrowers asking if they want to opt in to receiving marketing texts or account texts (payment reminders. payment notifications, etc.). When the borrower replies, the boxes above are either checked or unchecked based on their responses. We can also interface with Solutions By Text, a third-party company who specializes in ensuring all SMS deliveries and responses are following rules and regulations of texting compliance.
Texts can be automatically sent to borrowers based on certain account triggers your institution has set up. For example, you can have triggers when the loan payment is two days away. We can also set up triggers to send a thank you text after a payment is made or a trigger when it's their birthday. We can set up hundreds of triggers as needed.
Using Solutions By Text or our texting system, and with the consent of the borrower, we can tie a routing number and bank account to be used for the borrower. Then when the payment is coming due, the system will send an automatic text to the borrower letting them know that if they reply with the word "PAY," the system will automatically make the payment using their preferred banking account.
Now that you are in compliance and texts are being delivered to your borrowers appropriately, how can our software help your collectors see what texts have been delivered; whether the borrower has responded; and do we allow for any follow-up free-form texts?
Why don't we show you just a peak at how this is done on our software. Pictures speak louder than words.
Client Text Notifications Screen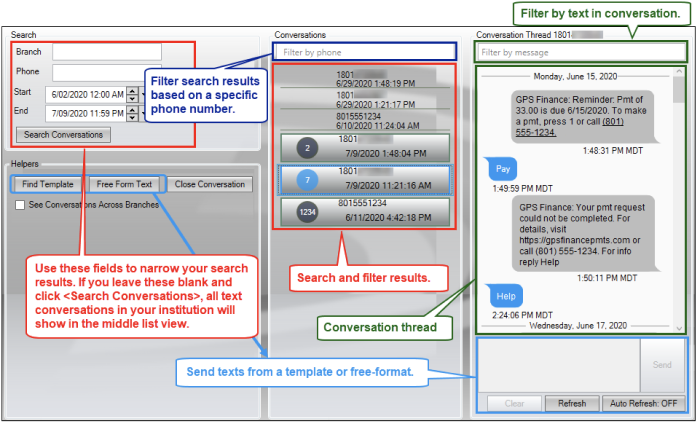 This is the screen collectors can access to view conversation history. They can see what texts were sent to borrowers and how borrowers responded. They can also send follow-up texts directly using this screen.
Send a Free-form Text
Free-form texts allow collectors to type whatever message they want to send via text to the borrower. Obviously, you will need to train your collectors on what responses are appropriate and how many or when to send messages. But once they're up to speed, it's quite easy to send follow-up texts.
To send a free-form text using the Client Text Notifications screen:
1. Search for a phone number. All the conversations that match the search parameters are displayed in the middle Conversations list view.
2. Select the conversation that you want to view in the middle Conversations list view. This displays the conversation thread in the Message Display. You'll notice the <Free Form Text> button is now accessible in the Helpers box.
3. Click <Free Form Text>. The following dialog box is displayed: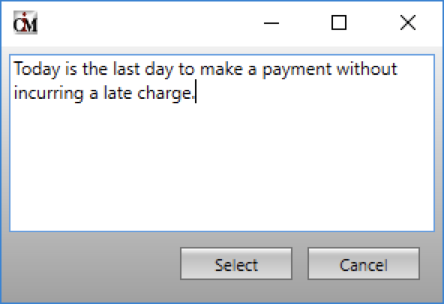 4. Type the message you want to send to the borrower.
5. Click <Select> to prepare this text to send. It will show below the Conversation Thread, as shown below: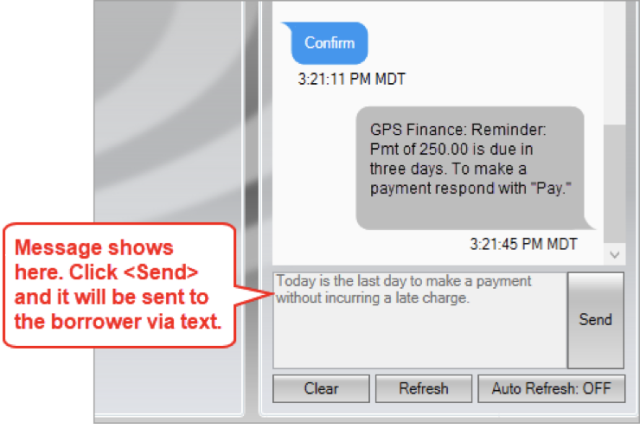 6. Click <Send> to send the text to the customer.
The message is sent and displayed as one of the threads in the Message Display area.
Other collectors who may be working on the account later in the week can see what messages were sent as well.