"Favorite Things" lists are popular this time of year, just ask your kids. But let's be honest: adults have "favorite things" lists, too. How about your lending software? Do you have a favorite things list for lending software?
Let us help you uncover a few favorite tools in our lending software, starting with the best little countdown calendar.
This calendar is the Days Different Calculator, and it's found in CIM GOLD® (GOLDPoint Systems' loan servicing software). It's a little hidden gem that you may find yourself using all the time. It's under the Miscellaneous node, as shown below: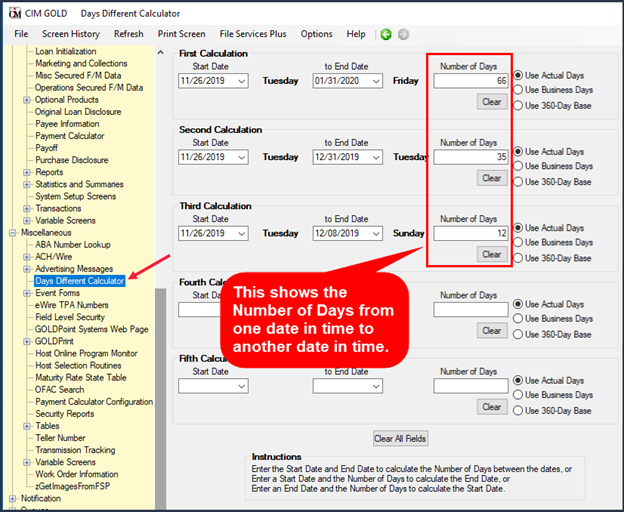 Miscellaneous > Days Different Calculator Screen in CIM GOLD
This is the calculator your kids would love when they play the game, "How many days until Christmas break?" But then they edit that number by calculating, "How many SCHOOL days until Christmas break?"
When you think about it, calculating the number of days between two dates in time is harder than it first seems. January has 31 days, but February only has 28 days. Wait, is it a Leap Year? See how it can get tiresome real fast? Especially if calculating the number of days from today to a date a few years in the future?
The Days Different Calendar does the math for you. And why would that be useful? Maybe some of your borrowers wonder how much interest they'd save if they were to pay off their loan at the end of January? No make that end of December? No, how about in 12 days? Whatever the number, you can quickly figure it out as follows:
1. Select today's date in the Start Date field.
2. Select the date they'd like to pay off the loan in the End Date field.
3. Select any of the three radio buttons to indicate how to calculate the number of days:
a. Use Actual Days
b. Use Business Days (doesn't count Saturdays, Sundays, or holidays)
c. Use 360Day Base (this is the 30-days-a-month base)
4. Now go to the Loans > Payoff screen and see what the Per Diem is.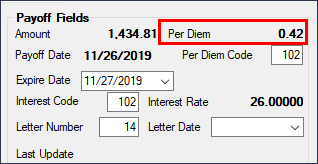 5. Times the Per Diem by the Number of Days from the Days Different Calculator, and that's how much interest will accrue if the loan is paid off by then.
The other great thing about the Days Different Calendar is you can enter multiple dates all at once. So if that borrower is curious about a bunch of different scenarios, you can enter up to five different date calculations at once.
It's an especially useful tool if you are testing information, such as late charges and accrued interest. If you didn't know about that screen before now, try using it. I'm sure you will find many ways that screen will come in handy.
Export any table of information
Seasoned users of our software understand any table of information in CIM GOLD can be exported to Microsoft® Excel® or Report Manager (GOLDPoint Systems reporting tool). But maybe you are new to our system and didn't know about this feature.
If you right-click any table in CIM GOLD, a pop-up screen appears, where you can export the data to Excel or Report Manager. You can even export just one line of information or the whole table of data, as shown below:
We can think of many reasons why you may need to export information from a table into an Excel file. For one, maybe you need to share that information with a third party, such as an insurance company. Or maybe a borrower wants more information about one part of their loan. Maybe you want to search through the information, so pasting into Excel allows you to do a <Ctrl> + F to find keywords.
Here's the thing: Excel is a tool that most people are familiar with. So even though we may have the most robust reporting tools on the market, maybe you just like viewing data in Excel. We're not here to discourage that. We want to help you get the data where you want.
For example, the Loans > Check Printing > Checks screen can show you all checks that have printed for accounts, as shown below. You can right-click that screen and export the check information to Excel. Then you can look at the data the way you want. You can even manipulate the data any way you need. The data is your data: we're just here to help you compile it in a way that is helpful to you.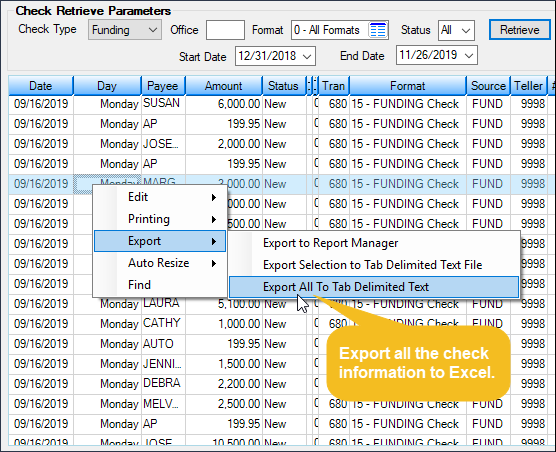 Print statements directly from the History screen
For the most part, statements are generated every month for your account owners and sent to them either via email or the U.S. Postal Service. But perhaps you have an eager customer that would like a more current statement. They want to know what has transpired on their account NOW (not unlike Veruca Salt who wanted that gold-laying duck in Charlie and the Chocolate Factory).
Another great feature we like in CIM GOLD is the ability to print statements directly from the Loans or Deposit History screens.
You can print history from a specific date range including up to today's date, as shown in the following examples: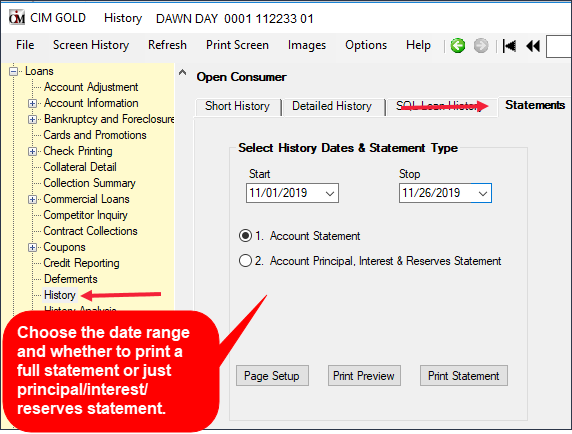 Loans > History Screen in CIM GOLD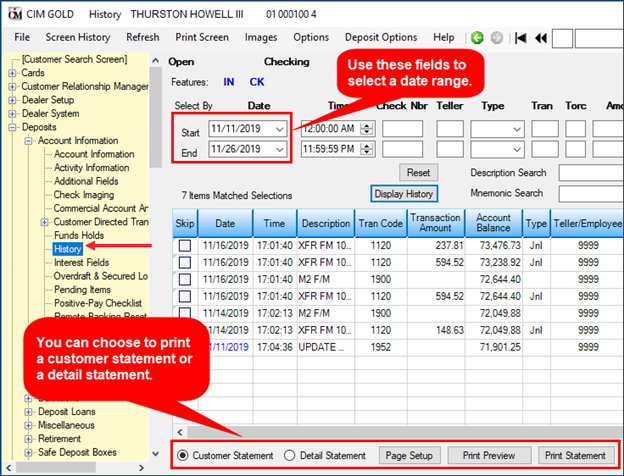 Deposits > Account Information > History Screen
This is a great benefit you can give account owners to help them know where their account stands as of today. You can also print that statement to a PDF and email an account owner the information, if the conversation occurred over the phone or through an email exchange.
To print to PDF:
1. Click <Print Statement> from either the Deposit or Loan History screen.
2. From the Print dialog box that appears, click the Name drop-down and select
"Microsoft Print to PDF."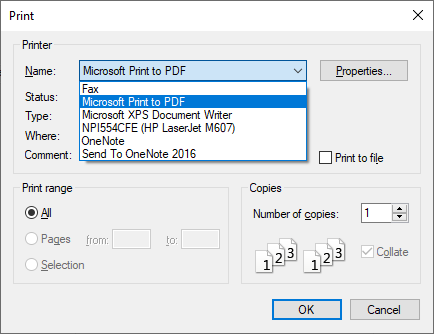 3. Click <OK> on the Print dialog. It will close, and a new dialog box, Save Print
Output As, will appear.
4. Browse to where you want to save that PDF file, then click <Save>.
You can then attach that PDF to an email and send it to your interested account owners. Note: Hopefully your institution already has secure emailing standards, such as encryption tools. Perhaps that's another "favorite thing" to implement.