When dealing with hundreds or even thousands of loans, it's impossible to always remember the special considerations each individual account needs. Luckily, GOLDPoint Systems' loan servicing software provides a solution: Action Codes.
What exactly are action codes? In a nutshell, action codes are basically status flags placed on a loan, either by the system or a user, which indicate certain account information to the system or warn users that certain activity on the account is necessary.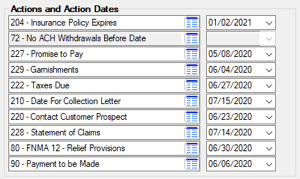 For example, some action codes prevent payments from processing on an account. When such a code is active, a message will display (for the teller or borrower, depending on how the payment is attempted) indicating which action must take place before a payment can process.
Action codes can be built into Collection Queues or reports, which will aid in the process of sorting loans for specialized employees to deal with. One report in particular, the Loan Action Needed Report (FPSRP025) (which can be viewed in GOLDView Plus), shows all accounts with an active Action Code. This report lays out a forecast of actions to be taken by your loan servicing department. In most cases, accounts will appear on the report three calendar months before the required action. If your institution does not currently have this report set up, contact your GOLDPoint Systems account manager. Your employees and customers will be grateful for the added efficiency.
Other examples of action codes include:
Final or balloon payments are due
Repossession of collateral occurred
Year-end statement review
Credit Bureau date of occurrence
Payoff or curtailment lockouts
Stoppage of deferred fee amortization up to the indicated date
Stoppage of rate roll until the indicated date
Amortization end date
Stoppage of ACH payment processing until indicated date
Stoppage of automatic charge-off
New mortgage or billing statements need to be ordered
Skip this loan when deleting history
Possible fraud alert
There are over 170 action codes available in our loan servicing software, as well the capacity to create up to 35 additional user-defined codes to meet your institution's specific needs. A loan can have up to 10 defined action codes at a time.
For more information about action codes, see the relevant help documentation in DocsOnWeb or reach out to your GOLDPoint Systems account specialist.