We hope by now you are enjoying 7-days-a-week processing. It's been a year since our company completely revamped our system to process loan servicing 7 days a week. We think it's the best thing we've come up with since 6-day processing. (Ah, the good ol' days of "bankers' hours".) Processing seven days a week means your books are better up-to-date; payments are recorded in a timelier fashion; and accounting is more accurate.
Further reading: See the Daily Processing blog post for information on what was involved with daily processing.
But maybe you have noticed one small thing that does not comply with seven-day processing: late charges. This is by design.
Late charges are regulated by state and federal regulations. The regulations used to require that payment Due Dates that fell on dates where your business was closed meant the borrower had an extra day to make their payment without being assessed a late charge. For example, if the Due Date was 01/26/2020, which is a Sunday, and your business doors were closed on Sundays, then the borrower had until the end of day on Monday to make a payment without being assessed a late charge.
But we live in a 24/7 world now, where customers can make online payments at any time day or night. However, this does not consider mailed payments. Because the U.S. Postal Service doesn't run on Sundays, regulations allow mailed payments to be accepted until end of business on Monday without incurring a late charge (if the Due Date were Sunday).
Due to the hassle of trying to determine if a payment is a mailed or online payment, or whether your business is open or not, we decided to leave late charges as they currently work, which is to not assess late charges on Sunday or holidays.
Further reading: See When Your Credit Card Bill Is Due on a Sunday or Holiday by the Balance.
SULT and SALT
Two institution options are available that affect late charges: SULT (Assess late charges before Saturdays, Sundays, and holidays) and SALT (Assess late charges on Saturday). Even though GOLDPoint Systems now runs afterhours 7 days a week, late charges still do not occur on Sundays and holidays. (Note: This is for GOLDPoint Systems holidays. If you do not want late charges to be assessed on your institution-specific holidays, make sure the holiday is set up on the Loans > System Setup Screens > Holiday Schedule screen.)
The following table explains how SALT and SULT affect when the system assesses late charges if the Due Date + Grace Days lands on a Sunday and a payment for that frequency has not yet been made.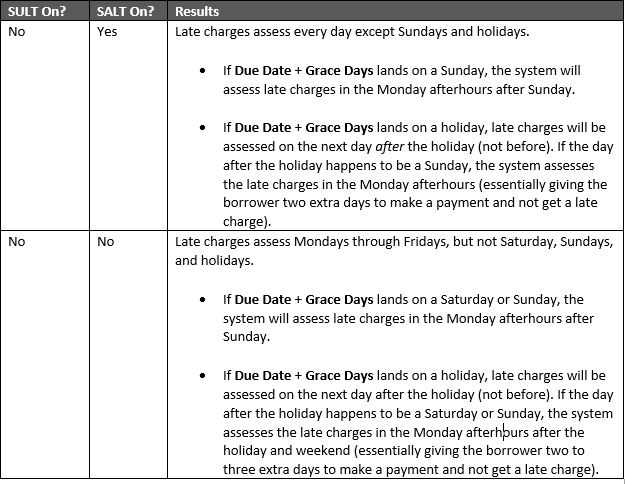 Remember: Payments can be posted on Sundays and credited to the account on that date. This is just concerning late charges. We hope this helps with your understanding of late charges in regards to our 7-day-a-week processing.